Custom maps are incredibly valuable to businesses, institutions, and organizations of all kinds. They provide a clear, spatially accurate depiction of resources, networks, and systems. By locating and visualizing tangible and intangible assets such as facilities, equipment, personnel, and relationships, organizations can optimize their operations, improve collaboration, identify gaps and redundancies, and respond more effectively to changes or emergencies. Asset maps can also support transparency and stakeholder engagement.
From the basic example below to projects loaded with data and functionality like our comprehensive land inventory systems, we can manage any asset. These maps can be embedded anywhere you choose, and the data is controlled by you or your organization, from a central, universally accessible, and simple-to-use interface.
A recent system delivered by TruGIS is connecting BC's economic development professionals. The Economic Development Practitioners Network (EDPN) can now efficiently track, manage, and connect a comprehensive network of econ dev professionals across regions in Southern BC with help from this custom tool.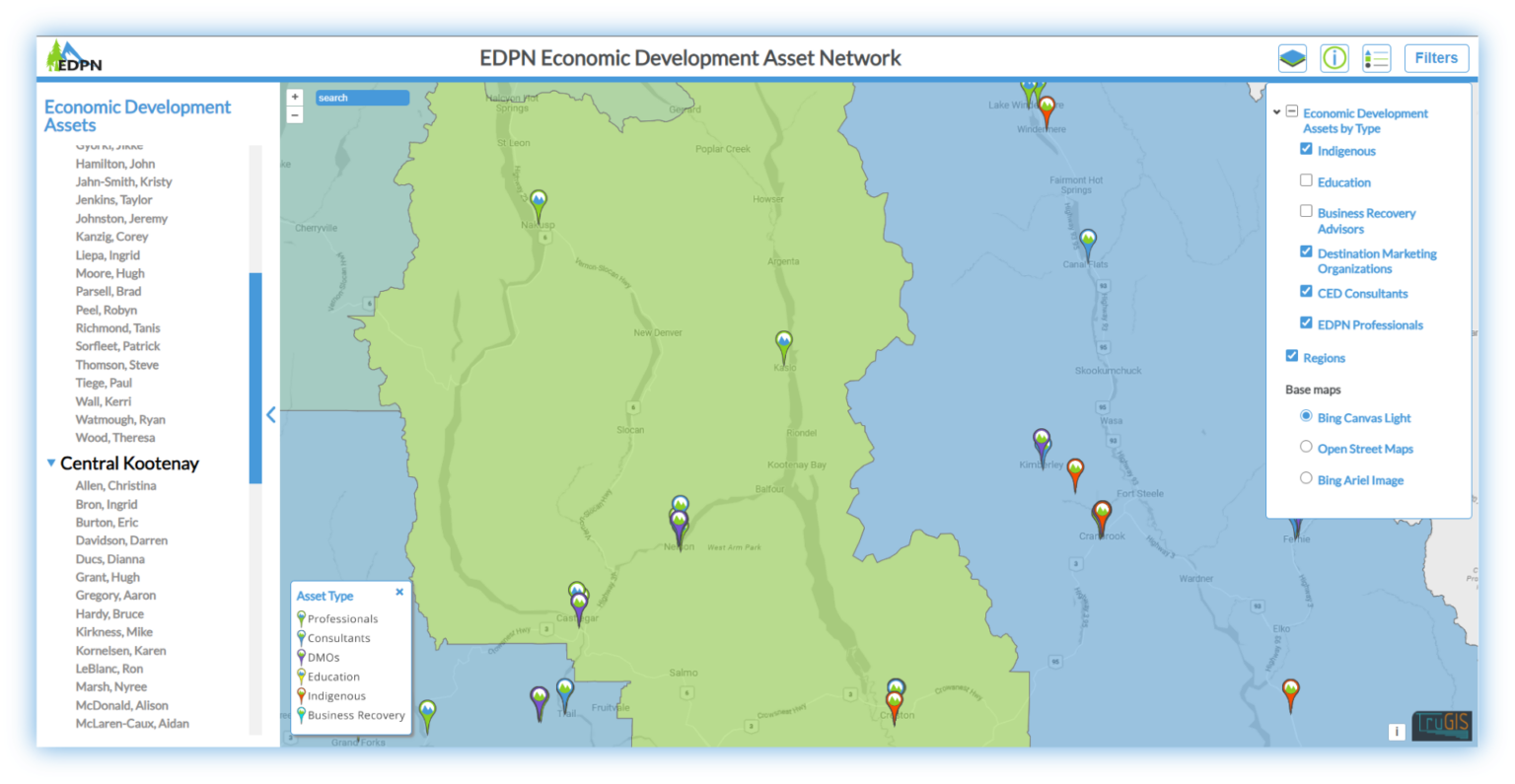 To view the land inventory system demo, or to learn more about TruGIS asset mapping services, contact us at, support@trugis.ca
If you're unsure how your organization could make use of custom asset maps, view the ORGANIZATION -> ASSET example list below...
ORGANIZATION TYPES -> ASSET EXAMPLES
Food Production: Dairy Cooperative
Member dairy farms
Milk collection points
Processing plants
Storage facilities
Distribution centers
Shared equipment
Veterinarians
Safety inspectors
Farming consultants
Administrative staff
Management and board members
Food Distribution: Regional Produce Distributor
Supplier farms
Storage facilities
Quality inspection sites
Packaging units
Distribution centers
Retail partners
Delivery personnel
Inventory managers
Sales representatives
Economic Development: Rural Economic Development Agency
Local businesses
Available commercial property
Infrastructure projects
Workforce training centers
Tourist attractions
Business development resources
Funding sources
Local entrepreneurs
Business support consultants
Government relations staff
Management and board members
Food Security: Community Agriculture Program
Community gardens
Educational centers
Distribution points
Partner farms
Volunteer hubs
Composting sites
Funding sources
Community organizers
Distribution coordinators
Farming consultants
Nutrition educators
Fundraising staff
Management and board members
Non-Profit: Food Bank
Donation drop-off points
Storage facilities
Distribution centers
Partner supermarkets
Volunteer hubs
Recipient communities
Food source farms
Storage managers
Distribution staff
Partner liaisons
Volunteer coordinators
Community outreach staff
Nutrition educators
Management and board members
Construction: Residential Construction Firm
Work sites
Material storage yards
Equipment depots
Subcontractor locations
Office locations
Supplier locations
Waste disposal sites
Project managers
Construction workers
Equipment operators
Safety inspectors
Subcontractor teams
Management and board members
Research: Environmental Remediation Studies
Research facilities
Data collection sites
Partner colleges / universities
Field study locations
Funding sources
Researchers
Data analysts
Field study teams
Academic liaisons
Fundraising staff
Management and board members
Economic Development: Chambers of Commerce
Member businesses
Networking event venues
Training centers
Visitor information points
Local landmarks
Economic development sites
Municipal offices
Member business owners
Event coordinators
Training facilitators
Landmark custodians
Economic development staff
Municipal liaisons
Management and board members
Tourism: Adventure Tourism Company
Tourist attractions
Accommodation facilities
Tour starting points
Equipment storage
Local landmarks
Visitor centers
Tour guides
Accommodation staff
Equipment maintenance
Safety equipment
Marketing staff
Agriculture: Organic Vegetable Farm
Crop fields
Storage barns
Processing areas
Irrigation systems
Farm stands
Greenhouses
Compost sites
Farm workers
Processing staff
Organic farming consultants